This Memorial day, as we remember our fallen warriors who fought for the freedoms we enjoy in the United States and throughout the world, there is another set of warriors who have fought, and continue to fight, for our Lord, and who we can call upon to help us with our spiritual battles. According to Ephesians 6:10-18, we are to "put on the whole armor of God, that you may be able to stand against the wiles of the devil." Here is a short list of saints and an archangel who are warriors for God, who have fought for God and stand ready to help us in our fight against evil.
1. St. Michael the Archangel
St. Michael is mentioned twice in scripture, once to comfort Daniel and promises to be a helper in all things, and secondly in Revelation where he battles against Lucifer and defeats the hosts of evil and drives them out. His feast day is September 29.
2. St. George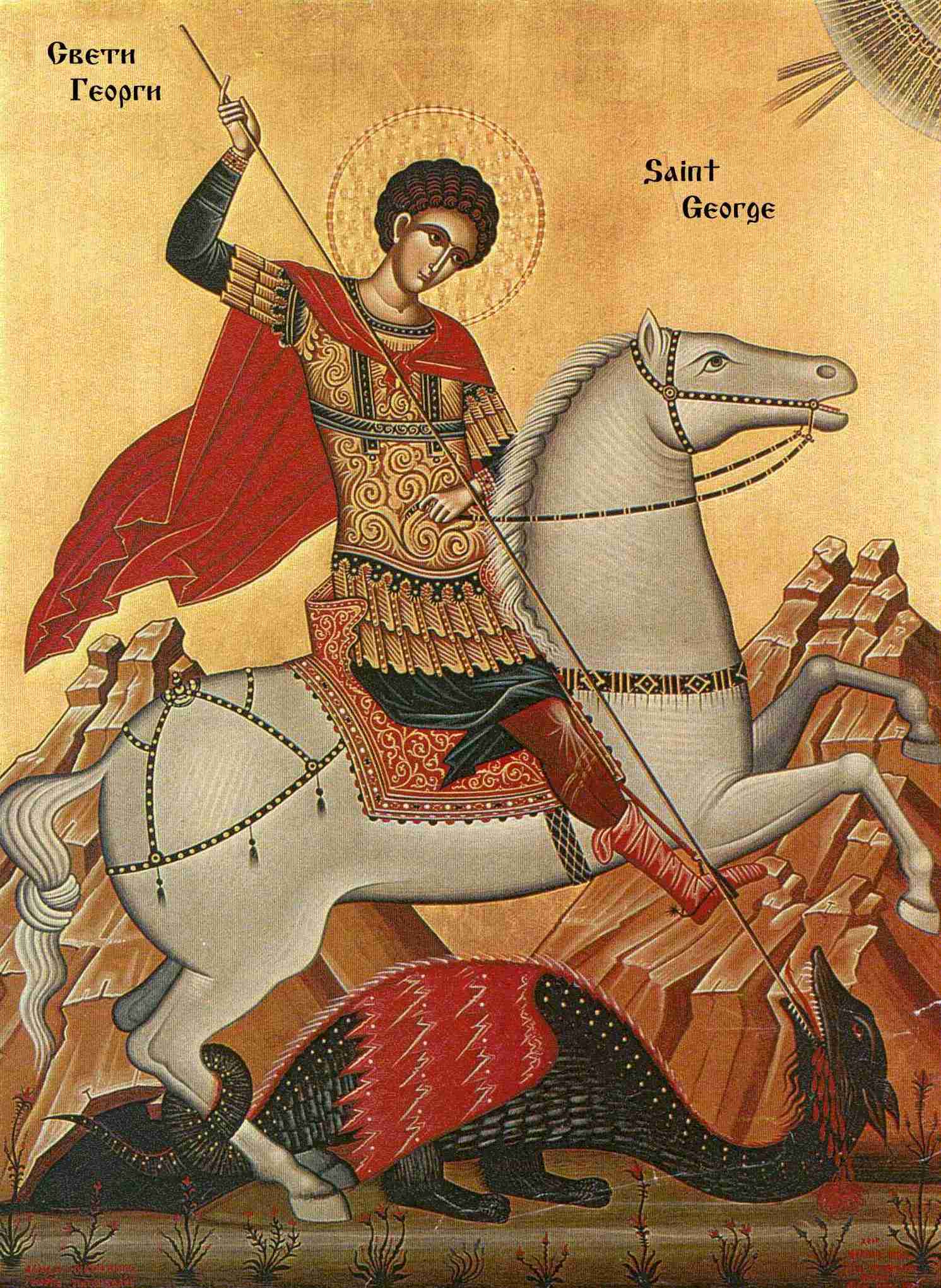 George became a soldier following in the footsteps of his father, who was known for being the Emperor's finest soldier. After many years in the Christian based army, the Emperor was influenced by the Romans, and the soldiers either had to offer a sacrifice to the Roman gods, or be arrested. George made a clear declaration before Emperor that he worshiped Jesus Christ. He was tempted by gifts of land, money, and slaves, but he never accepted them. George was ordered to be executed and before he was torchered and decapitated, gave away all of his wealth to the poor. He is also known for slaying a dragon, which appears on his coat of arms. His feast day is April 23rd.
3. St. Joan of Arc
Joan of Arc is best known for being burned at the stake by the English during the Hundred Years' War. She testified that she experienced visions from St. Michael, St. Catherine of Alexandria, and St. Margaret the Virgin at the age of 13. The saints told her that she was the one who needed to lead France, but the king did not listen to her until he was defeated many times and the military was demoralized. At 16, she led the army in several successful campaigns before she was ultimately captured after a failed truce with the English. She was tried for heresy, and at trial she was able to stay true to the Word of God even though she was an illiterate peasant. She was found guilty of cross-dressing (wearing military wear) and cutting her hair short. She was burned alive, coals raked over her charred body and burned twice to make sure her body was completely ash so there could be no relics, and the ashes cast into the Seine River. Her feast day is May 30th.
4. St. Ignatius of Loyola
Ignatius was a Spanish knight who was wounded in battle and underwent a spiritual conversion while in recovery. He gave up his military pursuits and devoted his life completely to God. He experienced visions of Mary with the infant Jesus and ultimately founded the Jesuit society (Society of Jesus), which bound themselves by vows of poverty, chastity and obedience. His feast day is July 31.
5. St. Sebastian
A soldier in the Roman army, Sebastian was challenged under death to renounce his faith, but remained firm. He converted many, cured his wife who was a deaf mute, and cured a prisoner of gout. He was named captain of the guards by two Emperors, neither knew he was Christian. When he was found out by Emperor Maximian, he was executed by arrows and left for dead. Found by a widow to be alive, she nursed him back to health. Again found by the Emperor, he denounced him for his cruelty to Christians and beaten to death by the Emperor's army. His feast day is January 20.
6. St. Gemma in Lucca
Gemma did not fight in the military, but she fought spiritual battles for our Lord. She lost many of her family to tuberculosis when she was very young, including her mother, sisters and brother. She studied at a Catholic school and began showing signs of the stigmata when she was 21. She had many visions of Mary and other saints, found frequently in a state of ecstasy and known to levitate to a large crucifix placed high on a wall in her family home. She would raise herself from the floor to wrap her arms around the crucifix and kiss the wound on Jesus' side. She was misunderstood and often ridiculed for her faith. She said that she often resisted the Devil's attacks, and hid her penances and sacrifices from those who knew her. She died of tuberculosis when she was 25. Her feast day is April 11.
7. St. Padre Pio of Pietrelcina
Pio was born Francesco Forgione and given the name Pio which means Pius in Italian. At the young age of 5, he dedicated his entire life to God. He served as an altar boy, and took penances upon himself by sleeping on a stone pillow and on the stone floor. He began having visions as a young age and was accepted into the community of friars when he was 15. When he was 23 he was ordained a priest, yet suffered for six years from various health illnesses, and remained at home during that time. He then returned and served the remaining of his days at San Giovanni Rotondo until his death in 1968, except for his military service in 1918 which lasted only 182 days due to his health. After his discharge from the military, he began showing physical signs of the stigmata which continued for 50 years (he stated he felt the pains of the wounds since 1903 prior to the physical signs). He had a vision of a celestial person hurl a very long sharp-pointed blade which emitted fire into his soul that caused him to suffer horribly for a month. A senior exorcist of Vatican City said in an interview that Padre Pio was, "able to distinguish between real apparitions of Jesus, Mary and the saints and the illusions created by the devil." He is reported to have engaged in physical combat with Satan and his minions which caused him to sustain extensive bruising. His feast day is September 23.
8. St. Thomas More
More was a warrior for the Catholic Church against the Protestant Reformation which threatened the core beliefs of the faith. He thought about becoming a monk, but instead choose to be involved in the law and politics. He "heard Luther's call to destroy the Catholic Church as a call to war," and worked first to prevent Lutheran books from being imported into England. Although he's been criticized for his treatment of the heretics, including imprisonment and burning at the stake, he followed the laws and culture of his time. Conflicts continued between the supremacy of the Papacy and the King when King Henry was angry that Pope Clement VII wouldn't give him an annulment. This created the division between the Church of England and the Catholic Church. More finally resigned when he was required to take an oath declaring the King the Supreme Head of the English Church. Several charges were drummed up against More, but none stuck except More denying the King as leader of the English Church, and was arrested for treason. He was later tried, found guilty and decapitated. His feast day is June 22.
9. St. Gianna Molla
Saint Gianna fought for life and against our modern views of abortion. She was born and raised in a strong Catholic family, and became a pediatric doctor. She also was active in Catholic Action, working with the elderly and a member of the St. Vincent de Paul Society. She fell madly in love with a man named Pietro Molla and they were married in 1955. They had three children, Pierluigi, Mariolina, and Laura, and she was pregnant with her fourth when she found out she had an tumor in her uterus that was threatening both her life and the life of the baby. It was recommended she terminate the pregnancy to remove the tumor or have a hysterectomy (the latter which is allowed by the Catholic Church). She pleaded for the life of her baby, and through prayers and Providence, the surgeon was able to remove the fibroma to save the life of her child, but this created many complications. Gianna was very clear, "This time it will be a difficult delivery, and they may have to save one or the other. I want them to save my baby." On Holy Saturday in 1962, she delivered Gianna Emanuela, however St. Gianna died seven days later. Pietro was the first husband to witness his wife's canonization. her feast day is April 28.
10. Heavenly Host
The Heavenly Host are referred in the Bible as God's Army who will ultimately fight against the Devil and will defeat Satan at the End of Days. Jacob saw the angels of God moving up and down a ladder (Genesis 28:10-17). Joshua encountered the commander of the army of the Lord (Joshua 5:13-15). Cherubim are constantly around God's throne, and guarded the garden of Eden and Ark of the Covenant. Archangels are high ranking angels. In Tobit 12:15, Raphael announces he is "one of the seven angels who stand and serve before the Glory of the Lord." Finally, in Revelation 5:11, 100 millions angels circle around the throne, as well as the living creatures and the elders. This would include your guardian angel, so be sure to ask them to fight for you and keep the devil at bay. The feast day for Guardian Angels is October 2.
---
May God bless all who have fought, who are fighting and who will fight for our freedoms and our right to freely worship who we choose to worship. May you forever rest in peace in the arms of God.