Pope Francis, with his signature blend of happy smiles and seemingly endless joy, released his newest Apostolic Exhortation Gaudete et exsultate (Rejoice and Be Glad) last month. The whole document is worth reading, because it's filled with wonderful insights, practical advice, and just enough challenging lines to make you re-evaluate where you are in your own pursuit of holiness.
Read more: How (And How Not) to Read Gaudete Et Exsultate
There are a number of quotable lines that are both inspiring and challenging. But there are also quote a few passages that simply make you smile as you ponder the pursuit of holiness and the desire to walk with the Lord.
Here are five quotes from Gaudete et exsultate that are sure to make you smile.
1. What Gaudete et exsultate isn't 
"What follows is not meant to be a treatise on holiness, containing definitions and distinctions helpful for understanding this important subject, or a discussion of the various means of sanctification…"
Phew…we're not getting a theology textbook. Just a letter from a shepherd to his flock, encouraging us to seek holiness.
2. Elderly religious and contagious joy
"I like to contemplate the holiness present in the patience of God's people: in those parents who raise their children with immense love, in those men and women who work hard to support their families, in the sick, in elderly religious who never lose their smile."
Even Pope Francis knows that a happy, old nun is the best nun around.
3. Catholic minimalism 
"We will find it hard to feel and show any real concern for those in need, unless we are able to cultivate a certain simplicity of life, resisting the feverish demands of a consumer society, which leave us impoverished and unsatisfied, anxious to have it all now."
Pope Francis clearly got the "minimalist movement" memo
4. The importance of community 
"Growth in holiness is a journey in community, side by side with others."
The pope is very clearly an extrovert…
5. Whispering to Our Lady 
"Mary our Mother does not need a flood of words. She does not need us to tell her what is happening in our lives. All we need do is whisper, time and time again: 'Hail Mary…'"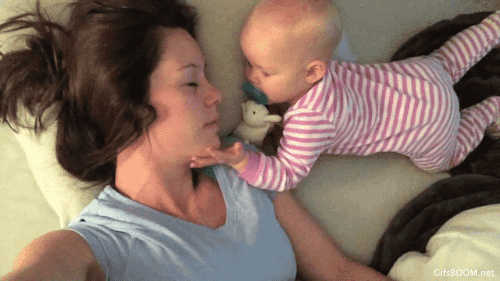 Kids whisper to their moms…? Right…..?
Go grab a copy of "Rejoice and be glad" and, well…rejoice and be glad. You'll enjoy it!